Home »
DTF Printer
»
Original Small Desktop 30cm A3 12Inch DTF Printing Machine by Textek DTF Printer Factory
Original Small Desktop 30cm A3 12Inch DTF Printing Machine by Textek DTF Printer Factory
30cm DTF printer is much more affordable with a better price,and it is originally designed for DTF printing,so can offer stable printing performance.
We can also offer DTF materials like DTF ink,DTF hotmelt powder,and DTF pet film.
Model:
A3 Pro DTF Printer
DTF Shirt Printer TK-A3 Pro
Printhead: 2*EPSON XP600
Printing Speed: 4.5sqm/h
Print Width: 30cm(12 inch)
Ink: 4C+W or 6C+W Pigment Ink(flurescent color accepted)
Ink Color: 6 Color Printing
RIP Software: Maintop, Photoprint etc
Content
Textek company is a professional factory for years since 2004,we focus on large format printers,including DTF printer,sublimation printer,eco solvent printer,UV printer,etc.
DTF printing is booming globally now,we are looking for strong partner overseas,pls feel free to contact us for distributors.
OEM service can be offered too,we can offer the machines with your brand.
As belows is the brochure of the popular model A3/30CM/12Inch size DTF printer,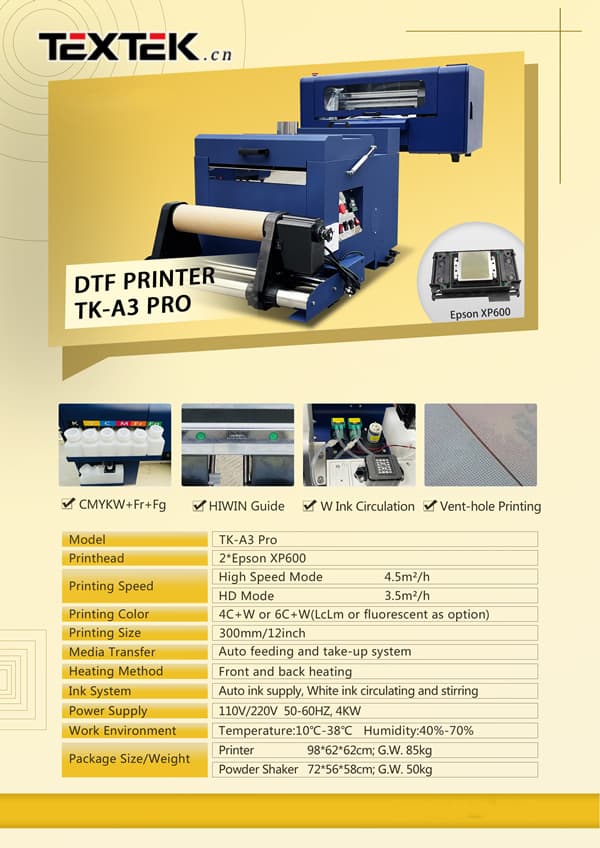 More DTF Printer